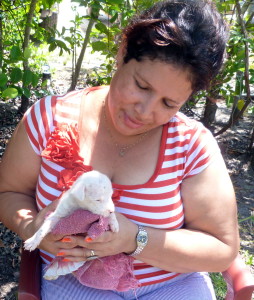 Regular vet clinics are held once a month at the Placencia Humane Society vet clinic building off the main road across from Los Porticos.  (See our calendar for the clinic schedule.)
The clinic is staffed by volunteers and visiting vets who are brought in from other parts of the country – the Peninsula does not have any vet in residence.  (Thanks to the hotels that provide lodging for our vets free of charge. A special thanks to Turtle Inn for the amazing pizzas donated for lunch for the vets and volunteers every Friday clinic.)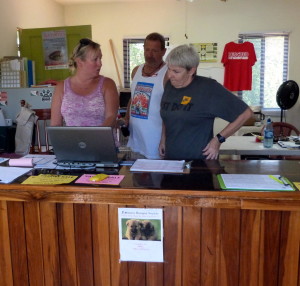 Services offered at the clinic include spaying and neutering, low-cost/subsidized vaccinations, veterinary check-ups, treatments for mange, TVT (transmissible venereal tumor disease), ehrlichea (tick fever) – and whatever else might ail a pet.
However, while the clinic does have a microscope, x-rays and some lab work must be sent to Belize City.
The clinic phone number is 604-8676.  Surgeries are by appointment only in the mornings, general (non-surgical) veterinary care is from 11-3 PM on Saturday of each clinic – no appointment needed – just stop by.  Call the clinic number to make an appointment for surgeries – or contact us through our Contact Page, our Facebook page or by email.  Dogs must be on leashes and cats must be in carriers (or some sort of container).  No food after midnight of the night before scheduled pet surgeries.
Some veterinary products are available for sale at the clinics, including collars and leashes, a limited supply of flea and tick preventatives, and grooming aids.  You can also purchase Placencia Humane Society t-shirts, coffee mugs and cozies at the clinic.
Please note, Placencia Pharmacy carries a variety of pet treatments including heartworm tablets.
So, stop by and see us – we look forward to meeting you!