Here they are–the winners of PHS' Second Annual PHOTO CONTEST! 153 photos were submitted, and yes, they were all winners! Our calendar committee had the best time looking at and discussing each entry. These photos were chosen as the best of the best. The photos of the seven winners will grace the cover of PHS' 2018 calendar, for sale this fall.
First prize: Kim Edwards for her cat Siri.
Second prize: Dave ten Broek for his dogs Emmy and Roo.
Third prize: Linda Cazin Burrow for David Ford's dogs Jack and Maggie.
Honorable mentions: Anna Mensie for her dog Buster, Jan Leaman for her dog Enzo, Marla Paul for her dog Sascha, and Elizabeth Anne for her dog Nacho.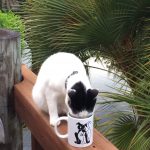 Siri – Kim Edwards – FIRST PRIZE