Franco Gentile and Mariuccia Levoni
Franco Gentile was honored at PHS' annual general meeting on 27 January, 2017. Because of a very generous ten year lease, the PHS building sits on Franco's property. Mariuccia Levoni, wife of Franco Gentile, accepted a certificate of appreciation, and explained in her words: "When PHS was in need of land, Franco did not hesitate in making it available to the organization."
PHS bears witness to the profound love and passion Franco had for all nature, animals, and Belize.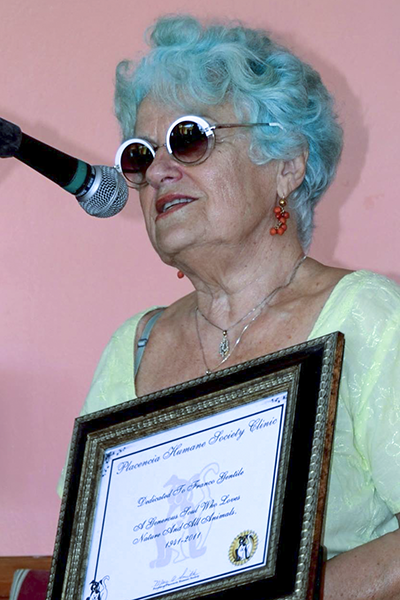 Mariuccia shares his story:
Franco was a wonderful mixture of old world (Italy) and new world (USA). He was born and lived in Italy till he was 16. His family moved to NY from Torre del Greco (Naples) to keep their jewelry business alive, after the uncle in NY passed on. Torre del Greco is known for having the only CAMEO carving school in the world and a fantastic coral museum.
We met in Portsmouth NH through Ecuadorian friends, just by chance. I was vacationing in the USA. I went to meet my girlfriend and he came to spend a weekend from NY.
Love at first sight? You bet! When his head came into view my stomach contracted, it had never happened before. The same happened to him.
We lived in Manhattan for 25 years and then moved to Placencia.
It was the 80's and more and more articles about Belize, this newly independent country, were appearing in the nature and wild life magazines Franco subscribed to. He said about Belize: here is the only country in the world that has a jaguar reserve, lots of untouched forest and there are more animals than people in Belize!
Both of us have always been very involved in nature and preserving our environment. I had learned a lot through my job as a tour guide at the United Nations and he through reading.
When I met Franco he was had more than fifty aquariums full of tropical fish. Most of them came from Lake Malawi.  He was breeding them.
We always had a cat. In Manhattan it was the easiest animal to have. Our FruFru lived to 21 years of age. Pretty good, eh? She came from ASPCA, (American Society for the Prevention of Cruelty to Animals), of course.
In 1988 Franco took off for Belize and Guatemala. He did not find Belize particularly attractive until one night he reached Placencia by bus. Mr Eiley and he were the only passengers. It was pitch dark….no electricity, remember?
He followed the man who showed him a door to a room where he found a bed.
The next morning he opened the windows and thought: YES, YES, YES: THIS IS IT! There was no return. The room looked into the harbor area, some of you will remember where the guest house was.
Franco returned to Manhattan raving about the fishing village. Davide, our son who was then 14, and I listened to him. We were both busy with school and graduate school.
Next year 1989 we bought a jeep and embarked on a wonderful trip through the Southern United States and all of Mexico visiting magnificent sites and savoring the different cultures.
We reached Belize and the first stop was Bomba. What is this? My son and I were looking at Franco and we were not sure this was where he wanted to live.
His friend in Bomba was Bernard, a Swiss guy. He had no teeth in his mouth…and he was young.
We then all went to Placencia together. I made Franco change sleeping quarters 3 times. The first one smelled, the second had too many "cucarachas", the third one was barely acceptable.
Needless to say, Davide and I were more than happy to return home. Franco stayed for 3 months. I had to call him back!
Many things happened in the next six years. Franco waited patiently for me to be ready to move. We took a few trips to Belize in the meantime.
In 1994, I said yes. He ran Kitty's Place restaurant and struggled to work in a tiny kitchen. It was rather difficult, but his cooking never suffered. He was a natural in the kitchen. Franco has always been an artist and he used that also in his cooking which was amazing and very innovative. I was very lucky because, apart from the first 10 years of our married life, I basically did not have to cook anymore. My job was desserts, he hated to prepare them.
After Kitty came Luba Hati, a nightmare and a miracle come true! Luba Hati was the hotel we built in 1965-67, designed by him.
Luba Hati was sold in 2006. We built Casa Nettuno on the beach and also bought a plantation in San Ignacio, Cayo.
Franco has always supported organizations such as WWF and has loved nature and wild life all his life.
When PHS was in need of land, he did not hesitate in making it available to the organization.
Five years ago he passed on and is buried in our property in Cayo. I will never forget when, right after his burial, our sheep started jumping up and down where he was buried. They really looked as if they were playing. It was very sweet to watch.