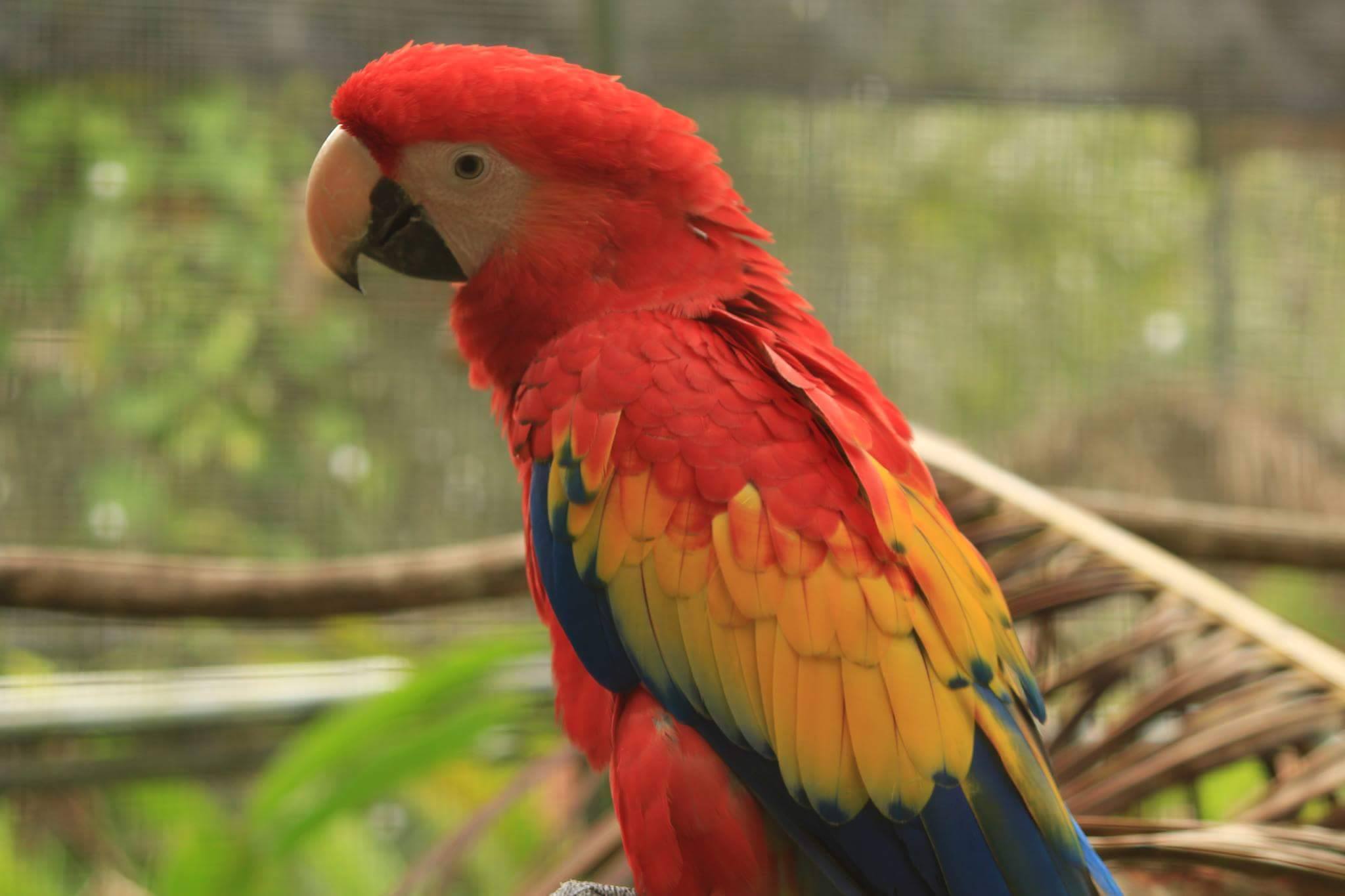 Placencia Humane Society (PHS) insists on the removal of Big Red from Norwegian Cruise Line's Harvest Caye. PHS also insists that Big Red be returned to rehabilitation, then released into the Rainforest, his natural habitat.
Big Red is a scarlet macaw, an endangered species. Estimates number their population on our planet between 200 to 400.
Our reasons for his removal are based on research and phone calls with both Forest Department (FD) and Nikki Buxton, Managing Director of Belize Bird Rescue (BBR).
PHS' concerns focus exclusively on the health and humane well-being of the bird.
Big Red was confiscated out of illegal captivity by FD, and resettled for rehabilitation with BBR in October, 2016. FD admittedly considers BBR "their partner," turning to the group when birds require special care and attention. BBR understood the young bird was to be rehabilitated and eventually returned to the wild. FD disputes this claim, saying the bird was never to be released into the wild, and on 23 May, 2017, the bird was, with only two hours notice to BBR, transported to Norwegian Cruise Line's Harvest Caye.
PHS questions FD's decision to return him to a life of captivity, and not release him to his natural environment. When PHS asked FD why, FD replied: "We have our reasons," without offering any.
PHS looks to the work of veterinarian Dr. Fernando Martinez, director of ARCAS, a wildlife protection and rescue center in neighboring Guatemala's Maya Biosphere Reserve. His group has successfully returned captive-bred macaws to their natural environments, boosting their endangered numbers by 5%.
Rehabilitation and return to the wild should have been, and still must be, the future of Big Red.
Harvest Caye is an island. Big Red's home is the Rainforest. Nikki Buxton states: "Harvest Caye is an inappropriate environment for this bird. He now faces challenges to his eyes, ears, respiratory system, feathers, and his metabolic functions. He is being exposed to parasitic conditions on the caye that are foreign to him in his natural habitat."
Harvest Caye sits in the first line rage of hurricanes. Evacuation off the caye would be considerable for all, not to mention the untold consequences of unsettling Big Red.
Harvest Caye is an artificial, man-made tourist environment, designed by a Disney imagineer. Cruise tourists can and should arrange tours to the real Rainforest to see the scarlet macaw in his home. That is both humane for the bird, and educational for the cruiser. Big Red is not a side show. He is not entertainment for cruise passengers waiting for their ship to depart.
Big Red is an endangered species.
Is it too late for Big Red to be returned to his natural Rainforest? Nikki Buxton believes his exposure at Harvest Caye would require him to be rehabilitated all over again. BBR is willing to do that, as that was always their mission.
PHS affirms that Big Red must be removed from Harvest Caye, rehabilitated, and given his freedom.
Make your voice heard! Stand up for Big Red:
By calling Forest Department at 822-2079 or emailing them at sfm.fd@ffsd.gov.bz
By calling Prime Minister Dean Barrow at 822-2346 or emailing him at secretarypm@opm.gov.bz
By calling the Minister of Tourism at 227-2801 or emailing him at info@tourism.gov.bz
By calling Belize Audubon Society at 223-4987 or emailing them at base@btl.net
By calling Wildlife Conservation Society at 223-3005 or emailing them at grmrs@wcs.org
By emailing Belize Zoo at info@belizezoo.org.
Write letters to the Amandala newspaper at editor_amandala@yahoo.com
Or to the Reporter newspaper at milanreporter@gmail.com
PHS hopes public sentiment will reach these authorities, and give Big Red the humane life that he deserves.