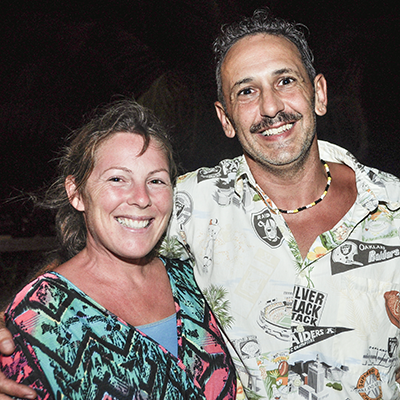 "Compassionate": (adjective) feeling or showing sympathy and concern for others.
"Volunteers": (noun) those who freely offer to do something.
"Compassionate Volunteers" = Rick and Candace Feldman, who PHS turns to in emergency situations.
They help PHS manage what is our most painful and difficult job—finding loving foster and permanent homes for abandoned and distressed pets.
When PHS is alerted that a mama dog or cat is killed by a car, and leaves behind six tiny, helpless critters, we call the Feldmans.
When someone posts on FB that there is a starving, mangey dog hanging out on the beach, begging for food, PHS contacts the Feldmans.
Team Feldman—Rick and Candace—are PHS' go-to frontline volunteers for arranging rescues, fosters, and adoptions in our communities.
Saving animals is in their blood: both were involved in an animal welfare group in Los Angeles, where they adopted two dogs: Peanut, whom they rescued from being euthanized, and Chongo.
Instead, Peanut and Chongo ventured on down to Placencia with their owners in July, 2015.
Two months after their arrival, the Feldmans heard of a blind dog who had been assisted in PHS' Seine Bight Outreach Program and needed a home.  They did not hesitate to bring Jane into their family.
And that was just the beginning.
Since October, 2015, Rick and Candace have successfully found loving permanent homes for countless dogs and cats!
They even rescued a motherless baby raccoon, drove it all the way to Belize Wildlife and Referral Clinic in northern Belize, where it would receive proper care.
Sometimes a rescued pet is too sick to wait for the medical attention provided at the monthly PHS clinic, so they take the animal to Doctor Bennett.  The Feldmans pay out of their own pocket, and would never think to ask for reimbursement from PHS.
Rick states their commitment very clearly: "As long as there is a need, we are here for them, all four legged, furry friends who can't do it for themselves.  We help out PHS in whatever we can do."
They show no signs of burn-out, of tiring of what seems to some like an endless burden.
Candace states: "We take a lot of pride in what we do.  Yes, you can call it our passion.  We meet prospective owners, talk to them, have them fill out the necessary paperwork.  We visit their homes.  We don't want any pet chained up underneath a house.  We screen them all to guarantee the pets a loving home.  We post pets' photos with their stories on FB, and that gets a very good response.  We do not have a fenced in yard, so that makes it a bit more difficult, since we have three dogs of our own, and all the dogs must be inside our house."
How are they so successful?
Rick and Candace speak: "We try to be friendly to everybody, and have a good relationship with the village.  We know people by name, we approach folks, and they are comfortable with us, too."
Both Rick and Candace have the enviable gift and ability to recall pets' names, their stories, and proudly show photos of the animals they have placed in loving permanent homes.  They come alive at sharing the success of their hard work and dedication.
Their dream is to buy acres of property in Cayo, a farm, where all rescued pets from around Belize can "run free in green fields and let their days be happy ones."
PHS thanks Rick and Candace, "compassionate volunteers," for making dreams come true for our community's abandoned, rescued pets.