Love finds Jackson Turtle
It can really be a dog's life particularly if you are a stray or abandoned animal. Here in a country where many families struggle to take care of basic needs the care of stray animals can easily be overlooked.  But, thanks to the efforts of the Placencia Humane Society, there can be a bright side.  Here is one such story.
Jackson is a sweet, wonderful dog that deserved a good, loving and stable home. When first presented with the opportunity however, Jackson was not entirely ready to cooperate.
Jackson was adopted by Rene Brown in 2010 from PHS. Rene wanted him as a guard dog for the Moorings but Jackson wanted no part of a fence or leash. Rene said she should have named him Houdini because he always found a way to escape. He would spend his days and nights at the Flying Pig, where ever there were people and chicken wings. But his wandering ways were not without danger. A dog that runs free can be attacked by other dogs or wild animals, they are susceptible to TVT, a sexually transmitted disease, if not neutered or spayed and there is the constant danger of being run over by a car.
Fortunately for Jackson he eventually found his way to the Turtle Inn and that was where he found his new forever home people. Christina Smith and Ed Natan from Beverly Hills fell in love with him. Christina recalls how she and Jackson first met.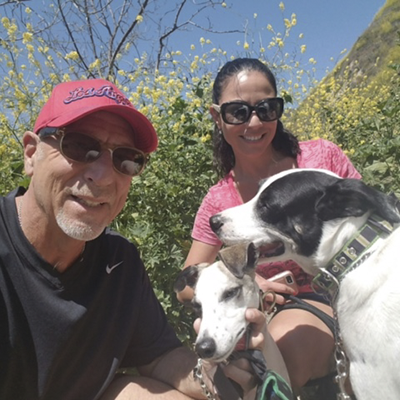 "He wandered into our lives at The Turtle Inn in early January. It appeared that all the patrons loved him, but we allowed him to stay in our room nightly, walked down the beach with him, took him all over on our golf cart which included lunches and dinners and actually walked him on leash. We bathed him and I allowed him to sleep in bed with me at The Inn. Let's just say, this is not the first time that has happened. I am known to make friends with local cats and dogs from Mexico to Panama, Hawaii to Europe. Often I find homeless animals and take care of them while I'm on vacation but never take them home and it breaks my heart. The reason we decided to take Jackson with us, other than just loving him, is the result of an earlier experience I had with another loveable stray.
While on vacation last April I found a starving Whippet in Kauai in the Waimea Canyon. I learned the evening I found my beloved Waimea, as I named the Whippet, that they are used for hunting. They assist hunters to hunt wild boar, pheasants and deer and often get left in the mountains to starve or get killed by another animal. As soon as I learned that from many locals, I decided he was coming home with me! Likewise, after so much time bonding with Jackson it was simply not an option to leave him behind."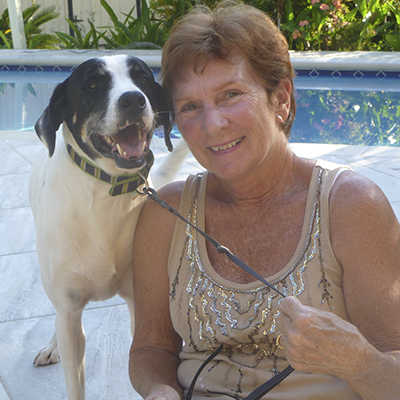 Christina contacted Mary Smith from PHS and the process began. Renee agreed to having Jackson adopted by Christina. Then Jackson had to be fostered for two weeks before he could be could shipped to the states. With the help of Mary Smith and Miriam de Shield of Belize City Jackson was kenneled overnight in Belize City and finally transported to his new permanent home in California. It took three flights and many long hours in cargo or kennels but Jackson finally arrived in his new forever home on January 24. Christina reports on his arrival and integration in his new environment.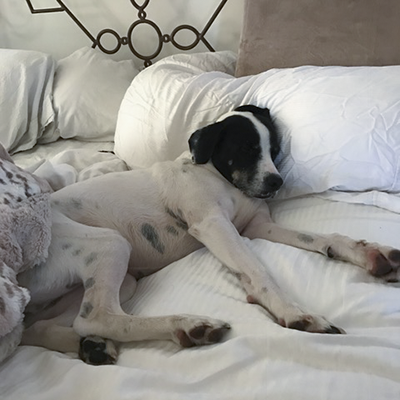 "Jackson has been here in Beverly Hills with my two adopted kitties since April of 2016. We had discussed getting Waimea a playmate but I was not ready to commit until that adorable, well mannered Jackson came into our lives. He is the most calm and loving dog and we are overjoyed to have him here with our family. He and Waimea are such great buddies.  They wrestle together, walk together and come to lunches and hikes with us. They have also become such snuggle buddies!! His name now is Jackson Turtle. We kept Jackson, as he knows his name, but added Turtle in memory of where we first met. He is complimented daily by passersby and welcomed into restaurants, hotels and wine tasting rooms with us."
Christina sends her deepest thanks to Mary Smith, Miriam de Shield and all of the volunteers at the Placencia Humane Society who made this wonderful success story possible.