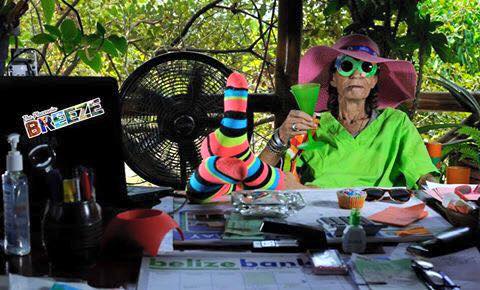 As most of you probably know, Candy Power died around 7:00 AM Mountain Time, in her home in Pueblo, Colorado, on 27 October 2015.
Candy left behind her loving daughter, Kelli, her wonderful grandson, Jonathon, many friends, a few enemies . . . and a legacy of uncompromising love and devotion to her friends, all animals – domestic or wild – and the environment.
You see, as Candy so wisely knew, they all go together.  We can't protect each other and our pets and wildlife without a healthy environment – and we can't have a healthy environment without our pets and wildlife.
Candy was one of the founders of the Placencia Humane Society way back in 1998 – and she was one of the first members of the Peninsula Citizens for Sustainable Development – hanging in there to the bitter end.
Candy cared – so much – sometimes too much.  And, maybe as importantly, she made us laugh – with her, not at her.
So, Candy, wherever you are, we know you crossed the Rainbow Bridge with the biggest smile – and that you ran the rest of the way home escorted by your legions of friends – two-legged, four-legged, furred, feathered and scaled.  Watch over those of us still carrying the torch.
With much love.